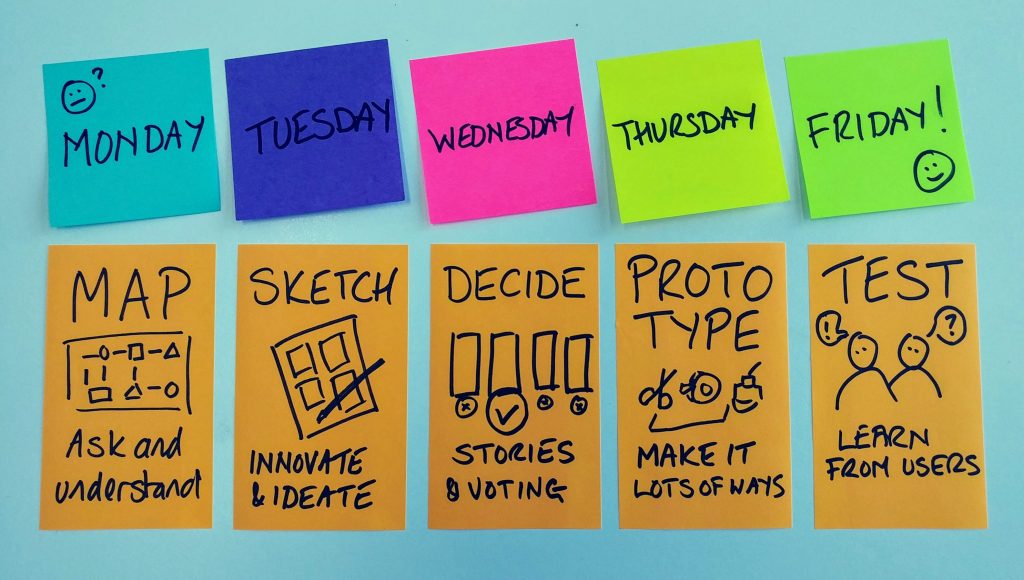 The woman at my local stationery store always has a particular look on her face when I heave my basket onto the counter. It is a look that hides the question:
What on earth do you do with all those Post It Notes and Sharpies you're always buying?
It's a fair question and one which colleagues and friends often ask too. So, by way of an answer, I wrote this brief 'elevator' explanation.
What is a design sprint?
A design sprint is an interactive step-by-step system for solving big problems and/or testing big ideas. This is done over a structured four or five-day period with a small team of key people. In one form or another, I incorporate design sprint methods into much of my training, facilitation and coaching.
Why would I run a design sprint?
Design sprints are used for discovering, building and testing new products, services and apps. In New Zealand, household names like Powershop, Air New Zealand, Vodafone, Icebreaker and ACC use sprints to remain competitive in their sectors.
Sprints can also be used to develop, build and test workflows, models and policies. The outcomes of some sprints I have led include reducing processing time and red tape in local government work planning, improving the online booking experience for Regional Parks and enabling sports clubs to self-serve when reserving sports fields and facilities.
How will design sprints help my business?
Pure design is often seen as an open-ended, overly creative and long-winded process but this needn't be the case. Sprints are quick and cost effective compared to traditional long-form project work.
A design sprint is a short series of timed workshops involving a small number of key players. These workshops can deliver specific and measurable customer-focused outcomes in under a week, using 'how can we..?' questions to inform and build prototypes to test with customers – all between Monday morning and Friday afternoon.
I want a 2nd opinion from a leading practitioner.
Sounds great – so what should I do now?
If you would like to know more, feel free to contact me for a chat or book a two-hour Lightening Sprint to experience the process for yourself. Either way, leave me a comment, send me a message, drop me a line or give me a call on 021 233 1445.